Home "Instant Privacy" Trees Ornamental & Landscape Trees Photo Gallery Care of Your Trees
Tree Removal & Transplanting Delivery & Planting Landscape Supplies Glossary About Us/Contact Us Directions & Hours
Serving Washington State Since 1995
Our "Cliffhanger" Program
Custom Re-vegetation
--To help prevent erosion and improve stability --
Re-Vegetating a bluff on Whidbey Island
To view a Photo Gallery of this project from start to finish, click here.
Bluffs & Hillsides
(For River Property & Shorelines, click here)
If you own property with a bluff or steep hillside, you know that erosion and soil stability are real concerns and that your options are limited. Major structural barricades are unsightly and involve permits, long timelines and huge expense. Yet doing nothing is also difficult to accept as you watch your property disappear. Our "Cliffhanger" Program gives you another possible option--consider planting vegetation as a way to help protect and enhance your property:
"When properly installed and maintained, vegetation can protect slopes by reducing erosion, strengthening soil, and inhibiting landslides which increases general slope stability. The use of vegetation to manage erosion and protect slopes is relatively inexpensive, does not require heavy machinery on the slope, establishes wildlife habitat, and can improve the aesthetic quality of the property."
Article: "Slope Stabilization & Erosion Control Using Vegetation" (p.1)
Washington State Department of Ecology (link to article below)
What We'll Do
"Re-vegetation" efforts begin with analyzing the hillside or bluff—what's happening and what steps can be taken to improve the situation. This is usually accomplished through a "site visit" by a Hillside/Bluff Landscape expert (Camano Island resident Vic Malian, Cliffhanger Project Manager--see photo below--does this regularly). Each hillside/bluff is unique, but the typical re-vegetation project involves selecting and installing plants—shrubs and small trees—to help with erosion and stabilization. Sometimes we also install a "grid"--somewhat like a fishnet--to help hold the plants in place. At certain times of year, we also install a temporary watering system to irrigate the plants while they become established. These steps are described in more detail below, but the goal is for the plants to become established and for both their foliage and their roots to improve the situation (see Illustration below).
Our Cliffhanger projects typically have 5 steps:
1. Site Preparation. Site preparation designed to prepare each site for grid application (next section) with the removal of loose surface debris and minimal trimming of preexisting trees, shrubs and root base. It is a critical and delicate process unique to each topography and habitat.. It usually does not include removing any natural vegetation.
2. Installing a "Grid". Sometimes a "grid" is used for all or part of a project. A "Grid" is somewhat like a fishnet—a mesh to help anchor the plantings in place. There are several different types of grids that can be selected, depending on the nature of the hillside and the wishes of the homeowner;
3. Selecting and Installing the Plants. Plant selection is accomplished by comparing the site characteristics with the characteristics of the plants—soil, etc. For example, sword ferns are rugged Northwest native plants that have extensive root growth, so as to help stabilize the soil, and they also retain sand, silt and gravel during erosive processes; both characteristics being examples of what re-vegetation is trying to accomplish. Another example is planting Vine Maple or other trees at the base of the site in order to lessen the wind coming up the slope face. The selected plants are then prepared for planting and the landscape crew installs (plants) them. This step can include adding topsoil, root enhancers, and drainage as necessary. Please note that plants are often planted along the top of the hillside/bluff to help stabilize that area also--there are several plants that can be used that are both effective and attractive.
4. Installing Irrigation. On certain projects temporary (one year) irrigation is installed. The goal is to help the plants get through one growing season.
5. Debris Disposal and Clean-up. This step obviously depends on the site and job.
Every project has special "challenges", and each of the above steps requires discussion and decisions.
"We are a new Camano Island residence on a waterfront bluff. After spending our first winter here we found that we had some erosion to our bank. A local nursery recommended Vic Malian through the Cliffhanger program. We found Vic to be very professional and knowledgeable. He took a preventative approach, planting native plants and using a fabric net to help control the land. We are very pleased and would be happy to act as a reference."
--J.G., Camano Island, WA
What We Can't Do
Hillside erosion and instability are caused by many factors. While it is well-accepted that vegetation can help "protect slopes by reducing erosion, strengthening soil, and inhibiting landslides" (see quote above), we obviously cannot guarantee that you won't experience erosion or instability--there are just too many variables and vegetation doesn't solve every problem. Also, plants obviously take time to root-out and grow, so they are better protection the longer they are established. Please note that we are a landscape company and we do not make an engineering or hydraulic study of your property such as is necessary for retaining walls or other projects; our goal is simply to use vegetation to lessen surface and shallow erosion.
Also, some situations are simply too dangerous to attempt to work in--we are protective of our employees--or present other problems that make our Cliffhanger Program not a sensible approach. We pick-and-choose our projects, but you have nothing to lose by exploring the possibilities with us.
Permits
Because re-vegetation doesn't include structural improvements or grading, permits are usually not required. However, we feel that it is always a good idea to consult with government representatives in advance about a project just to be sure. We have not run in to any governmental representative that disagrees with the idea of re-vegetation as a form of erosion control and slope stabilization, and in fact the Washington State Department of Ecology encourages re-vegetation and has prepared two comprehensive "Guides" to assist property owners (see "Articles & Links" section below.
To Begin
We'll work with you on a no-cost, no-obligation basis to help determine if our Cliffhanger Program makes sense for your property. To begin, simply call or e-mail us: (425) 343-2650 or infor@NurseryTrees.com. After that, if it looks like a good Cliffhanger project, we'll furnish you with a written estimate.
(425) 343-2650 info@NurseryTrees.com
Victor Malian
Cliffhanger Program Manager
"Going over the edge"
Camano Island resident Vic Malian is a passionate fisherman, outdoor enthusiast and conservation advocate. He has over 20 years of experience in landscape construction management, including specialty landscaping for bluffs & hillsides. In most cases, Vic will be the person who comes to your property for a Cliffhanger Program site visit, and if we proceed he will oversee your project.
Illustration from "Vegetation Management: A Guide for Puget Sound Bluff
Property Owners" (p.8, link below)
Photo Gallery
To view a Photo Gallery of a "Cliffhanger" project from start to finish, please click here.
Articles & Links
"Slope Stabilization & Erosion Control Using Vegetation"
Washington State Department of Ecology
This is a terrific place to start, with a lot of basic information, a Property Owner Checklist,
and a Glossary. It is designed for both homeowners and local governments, to promote
the increased use of vegetation to lessen erosion and enhance stability.
"Vegetation Management: A Guide for Puget Sound Bluff Property Owners"
Washington State Department of Ecology
List of erosion control & slope stabilization plants
Washington State Department of Ecology
"Value, Benefits and Limitations of Vegetation in Reducing Erosion" (click link below)
http://www.psparchives.com/publications/our_work/stormwater/lid/clearing_grading/Vegetation%20and%20Soil%20Erosion-Menashe.pdf
Article from a workshop of Coastal Training Program Washington; prepared by Elliott Menashe, Greenbelt Consulting
"A natural array of native trees, shrubs and plants along a river bank helps to hold the soil in place
by pronounced and complex root systems." --"Shade the Chehalis--A Tree Planting Guide"
As with bluffs & hillsides, property along a river is subject to erosion and instability. And here again, the property owner has limited options. It is well accepted that "re-vegetation" can help prevent erosion and improve stability--the basic goal is to plant specially-selected vegetation to help stabilize the soil and lessen erosion. Not surprisingly, our services for river property owners are very similar to those for hillside/bluff owners, although river projects sometimes have a few additional options such as using landscape rock. Please review the sections above and then contact us to begin the evaluation process:
(425) 343-2650 info@NurseryTrees.com
You'll also want to review our River & Shoreline Property Photo Gallery

We are a tree farm, not just a nursery. Many of the trees you buy from us have been grown right here in Snohomish at our 60 acre tree farm. Buying directly from a grower gives you fresh trees, great selection, and low prices--you maximize your purchasing power!. More information
We'll help you determine which trees are right for your project, and provide you with free, no-obligation estimates. This is often accomplished by e-mail and phone. Where necessary, we will send our Arborist out to review the project (no charge). More information
We don't require any money "up front"—you only pay when the job is completed (unusual exceptions to this are special projects, lengthy "holds" on trees, or Cliffhanger jobs). Be careful of contractors asking for "up front" money.
When we plant your trees, we include staking (if necessary), transplanting fertilizer, and an easy-to-use watering system that hooks into your garden hose. More information. We also give a one year Warranty on trees we plant, for no additional charge. More information
We pride ourselves on our Customer Service—real people answering the phone. We have an "A+" rating with the Better Business Bureau and a 100% satisfaction rating with eBay. We have a detailed "Care of Your Trees" section of our website and are available for ongoing support after your trees are planted. More information
We've been in business since 1995 and have a dedicated, experienced staff including a Certified Arborist (RB), a Landscape Designer (Janet), and an experienced Business Manager/Nurseryman (Michael). More information To hear Ed Hume interview Michael on KOMO Radio's "Ask the Experts" gardening show, click here.
We're conveniently located just 15 minutes north of Woodinville. We'd be happy to have you out. We don't keep regular retail hours; instead we set up appointments so that we can focus on your project--we look at photos and plans with you, and drive you around the farm and look at the tree options. More information
"I am really pleased with your work. You saved me several thousand dollars, steered me away from trees that wouldn't work, provided healthy and beautiful trees, did a great job planting them, and did everything on time and on schedule. You can quote me." Jo, Vashon Island
"Our privacy bank of trees has done nothing but grow well into maturity. Our back yard and deck area is totally private and the 10 trees your team planted [in 2005] are rich, leathery and dark green. We remark on them every day it seems. Please include me in any of your "Testimonials" as you would be hard pressed to find a more satisfied customer." Jim, Port Orchard
"For quality vs. value, your trees are the best landscape purchase I've ever made." Jeff, Seattle
"I work in customer service so I know good service when I experience it and you have my top rating. I would definitely recommend you to anyone who needs new landscaping. Thanks again." Carol, Camano Island
"By the way, the trees were a great privacy feature when we sold the last house! We now have a much larger space . . . " Katherine, Fall City
"My compliments to your crew. We've had a lot of contractors working on our house recently and we've seen the entire range; and your guys were excellent. The trees make things look so much better—I started smiling as soon as I saw them going in." Holly, Queen Anne
"You guys are the best nursery I've ever done business with! And I have dealt with a few. You did what you said you would, on time with attention to detail rarely found. From the beginning of the quote process all the way through to the last detail you made it easy. And you work to ensure that the trees will thrive after planting with detailed advice, a complementary irrigation system, and a website filled with useful information. Most nurseries will just dump off the goods and tell you best of luck, put some water on them. You provide a quality product that sets you apart. Your crew was friendly, polite and operated as a well organized team. I would recommend you without hesitation! Thanks for doing a great job!" Ryan, Buckley
"We can not believe how beautiful your trees are. The privacy is unbelievable. If you ever need a testimonial let us know. Our yard is perfect! We sit there and say "my oh my"! Suzanne, Tacoma
"I don't think I've ever been as happy with something I've purchased." Sarah, Sammamish
Many More Testimonials (click here)
NurseryTrees.com, LLC is a Washington State Limited Liability Company ("LLC"). We are a Registered Contractor in the specialty areas of (1) Landscaping and (2) Irrigation/Sprinkling Systems (License Number: NURSEL*956J1). We are a member of the Better Business Bureau, (with an "A+" rating), the Washington Association of Landscape Professionals, the Washington Nursery & Landscape Association, the Washington Farm Bureau, Microsoft's Passport Unlimited Program (for Microsoft employees and the employees of other participating companies), and also have a 100% satisfaction rating on eBay ("growingonline"). We are an "SOD Certified" Nursery inspected each year by the Washington Department of Agriculture. References are available upon request.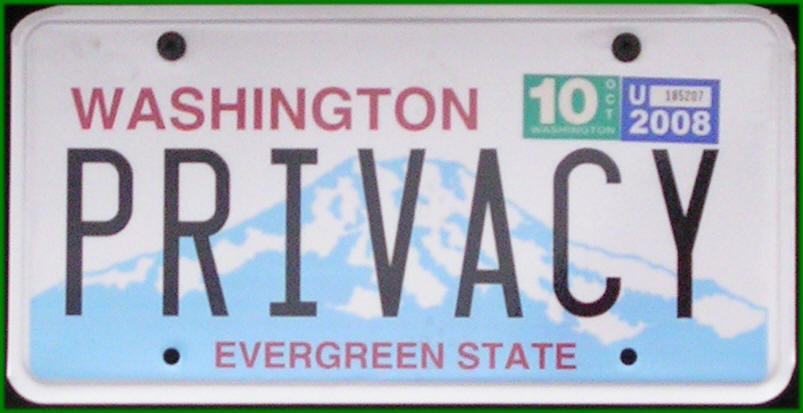 Our License Plate says it all!
Our Convenient Nursery Location
15 minutes from I-405/Bothell-Woodinville
View Directions to our location.
Sales by "Appointment Only", please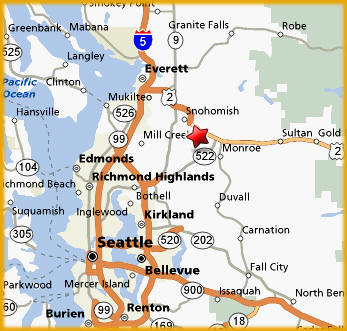 Serving Washington State Since 1995
13520 Old Snohomish-Monroe Road
Snohomish, WA 98290
(425) 343-2650
(425) 953-5780 fax
Sales by "Appointment Only", please
Home "Instant Privacy" Trees Ornamental & Landscape Trees Photo Gallery Care of Your Trees
Tree Removal & Transplanting Delivery & Planting Landscape Supplies Glossary About Us/Contact Us Directions & Hours
Website User Agreement Site Map
Copyright 2009, NurseryTrees.com, LLC