Home Privacy Trees Ornamental & Landscape Trees Photo Gallery Care of Your Trees
Tree Removal & Transplanting Delivery & Planting Landscape Supplies Resources About Us/Contact Us Directions & Hours
Serving Washington State Since 1995
"Instant Privacy" Tree Main Page
DELIVERY & PLANTING,
FREE ESTIMATES
&
CUSTOMER SUPPORT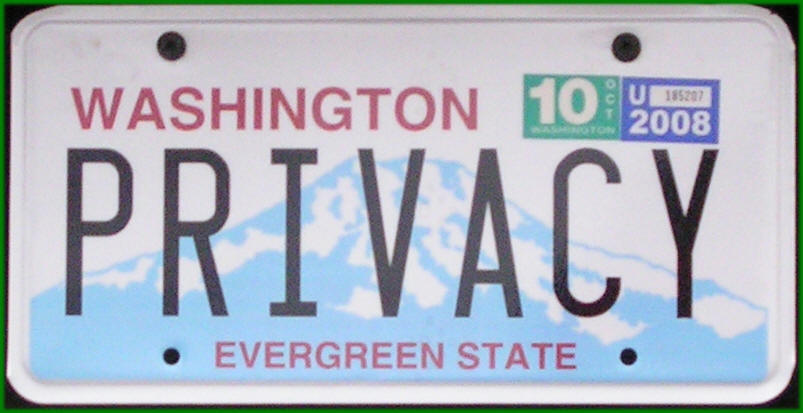 Because most of the trees we sell are so large, we usually also deliver and install them. Our goal is this:
"Of all the people who worked on our new home, you were the only ones
who showed up on time and did exactly what you said you were going to do."
—Brett, Renton Highlands
To accomplish this:
We work with you to be sure you know what you're getting and how much we'll charge. No surprises.

We communicate with you the day before your job, and again on the day of the job when the crew is heading your way Our goal is to not waste any of your time waiting for us.

We want you there while we are working so you get exactly what you want, where you want it. If you can't be present the whole time, we at least need you there when the crew arrives so that we can go over the job with you.

In most cases we will install an irrigation system to make watering, which is critical, as easy as possible (described below).

We will stake up the trees when necessary for no additional charge.

We will call the "Call Before You Dig" utility locator service and have them come out if there is any question as to whether there are utilities in the planting area (no charge).

Except in special circumstances we don't ask for any deposits—we only are paid when your job is finished and you are totally satisfied.

We give a one year warranty on the trees we plant (as long as you water them).

We have an "A+" rating with the Better Business Bureau.
All day long we send out Free Estimates, usually by e-mail after we've figured out what you want and where you are located. Estimates are broken down by Tree Cost, Planting Charge, Delivery Charge and sales tax. We also explain our warranty, payment options, and indicate whether we'll be providing irrigation (next section) and/or staking. You can begin this process by phone, e-mail or using our online Project Worksheet. Quick, easy and no-obligation.
Sometimes we plant trees "by hand", but because our trees are so large we usually use equipment to transport and plant them. Whether or not we can use equipment will also affect the planting charge of our Price Quotes. So "equipment access" is something we'll be discussing with you. Here are examples of our equipment: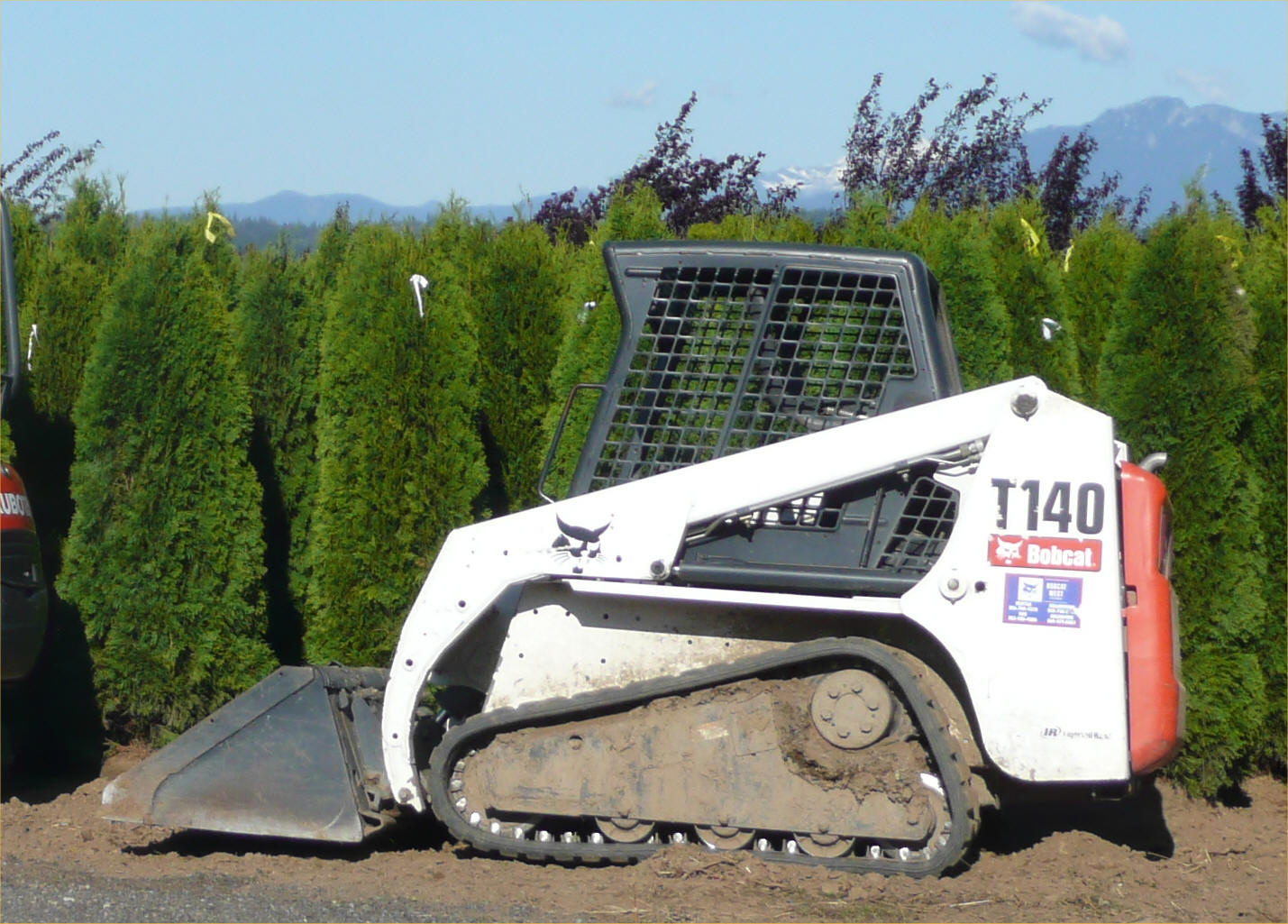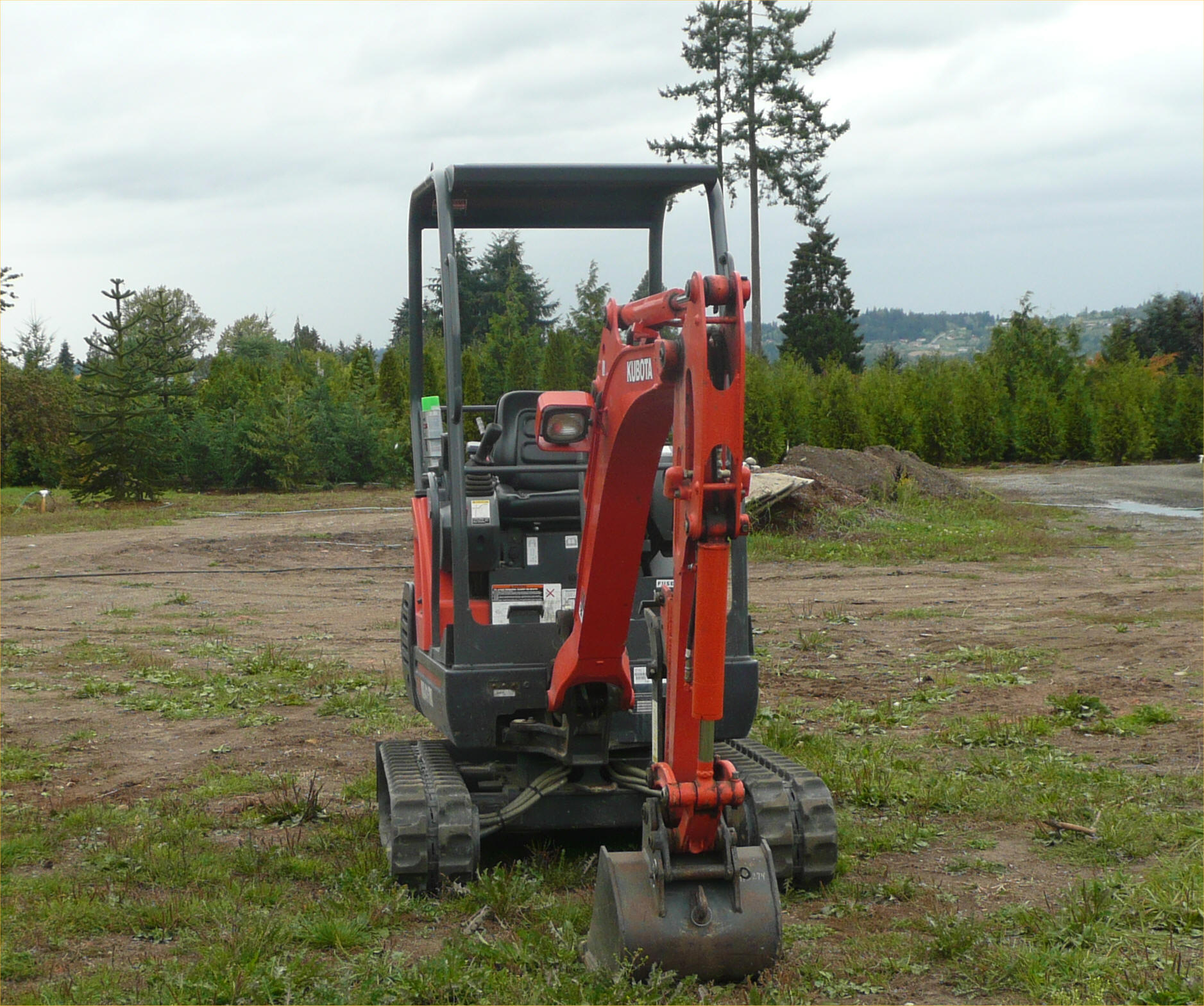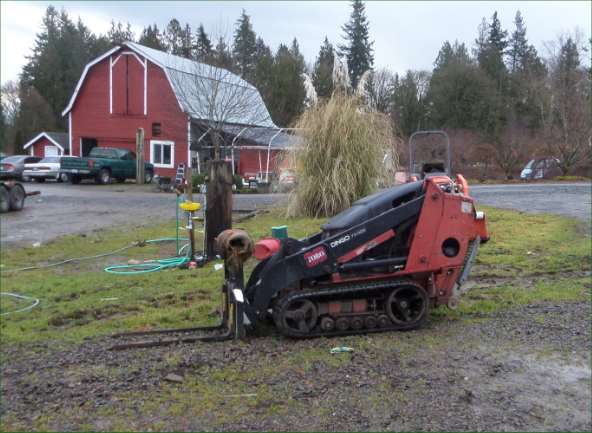 Bobcat (54" wide) Excavator (39" wide) Dingo 34" wide
These are narrow and designed to fit through narrow areas, but there are obviously limits. If you have a gate or something else that might be a problem, we'll ask you to measure it to see if our equipment will fit through. These also can't go up/down stairs or rockeries, although occasionally we can use a ramp.
With many of our installations we include a custom watering system. We do this because watering your new trees is absolutely critical and we want to make watering as easy as possible for you. We use two types of systems, both of which are "low volume" and simply connect to your garden hose:
Arborvitae: These trees are planted so close together that the most sensible system is a "custom-cut dual soaker hose"—we run soaker hoses along the trunks of the trees on each side, cut them to the length of your "run", and connect the hoses with a "Y" connector that then attaches to your garden hose. Simple and effective. For longer runs of trees, sometimes we set up two separate systems.
Most Privacy & Ornamental Trees: Whenever we install a line of trees—either privacy or ornamental—we install a low-volume "sprayer" system for no additional charge. This is a very nice system that we use here at the nursery--which sprays the water over the rootball; exactly where the water needs to go. Here's a link to the page that explains the watering system: Irrigation.
These systems are temporary. They are very important the first year, and during hot periods the second; but after that they can be removed.
Customer Support & Care of Your Trees
All of our customers are entitled to our ongoing Customer Support services. Please see the Care of Your Trees section of our website, and if you don't find your answer there, we encourage you to call or e-mail us with your questions. We also periodically e-mail out "Tree Care Reminders", such as a reminder to check your trees' irrigation system at the start of hot weather or Fall pruning tips (you can easily opt out of these e-mails, we don't abuse them, and we never, ever sell your contact information). We want your new trees to work for you and basically we will give you ongoing support to make that happen.
Delivery & Planting Available
Free Estimates
info@NurseryTrees.com (425) 343-2650
To "Jumpstart" a project by getting us the information we need, please fill-out our Project Worksheet.

From our Snohomish, WA location, we deliver and plant trees statewide. We sell retail & wholesale, for residential and commercial projects. Sorry, we only do business in the State of Washington.
We are a tree farm, not a retail nursery. Most of the trees we sell have been grown right here in Snohomish at our 60 acre tree farm. Buying directly from a grower gives you fresh trees, great selection, and low prices--you maximize your purchasing power! For more information including photos of our farm and growing fields, click here.
We specialize in Privacy Trees for screening--no other nursery in Washington State has our combination of a wide selection of privacy trees grown locally, many years' experience in "what works where", professional planting services, ongoing support, and thousands of satisfied customers.
We have trees that are not available elsewhere. Our "Hedged Privacy Trees" are a good example: For years we have been pruning some of our Privacy Trees into tall, narrow hedges. "Instant Privacy" in a narrow form. No one else in the Northwest has anything like this. Click here for more information.
FREE ESTIMATES: We'll help you determine which trees are right for your project, and provide you with free, no-obligation estimates. This is often accomplished by e-mail and phone, usually first using our online Project Worksheet. Where necessary, we will send our Arborist out to review the project (no charge). More information
We're conveniently located just 15 minutes north of Woodinville. We'd be happy to have you out. We don't keep regular retail hours; instead we set up appointments so that we can focus on your project--we look at photos and plans with you, and drive you around the farm and look at the tree options. More information
When we plant your trees we include staking, transplanting fertilizer, and an easy-to-use watering system that hooks into your garden hose. More information. We also give a one year Warranty on trees we plant, for no additional charge. More information We have a detailed "Care of Your Trees" section of our website, and provide ongoing support--we're available to answer your questions as your new trees grow. More information
We pride ourselves on our Customer Service—real people answering the phone. We have an "A+" rating with the Better Business Bureau (their highest rating), are an Angie's List Super Service Award winner, have excellent reviews on Yelp, Google, etc. and a 100% satisfaction rating with eBay.
<![if !vml]>

<![endif]>
We've been in business since 1995 and have a dedicated, experienced staff including an Arborist (RB), a Landscape Designer (Janet), a long-time Business Manager/Nurseryman (Michael), and experienced crewmembers, most of whom have been with us for many years. More information To hear Ed Hume interview Michael on KOMO Radio's "Ask the Experts" gardening show, click here.
We are a registered Washington State contractor (License Number: NURSEL*956J1). More information Be sure to hire a registered contractor -- to go to the Department of Labor & Industries website to check a contractor's registration, click here. As it says there: "Unregistered contractors carry no bond or insurance to protect consumers. Consumers can face serious issues if anything goes wrong on a job." These liability risks are in addition to fraud, poor workmanship, worthless warranties, etc.
"I am really pleased with your work. You saved me several thousand dollars, steered me away from trees that wouldn't work, provided healthy and beautiful trees, did a great job planting them, and did everything on time and on schedule. You can quote me." Jo, Vashon Island
"Our privacy bank of trees has done nothing but grow well into maturity. Our back yard and deck area is totally private and the 10 trees your team planted [in 2005] are rich, leathery and dark green. We remark on them every day it seems. Please include me in any of your "Testimonials" as you would be hard pressed to find a more satisfied customer." Jim, Port Orchard
"For quality vs. value, your trees are the best landscape purchase I've ever made." Jeff, Seattle
<![if !vml]>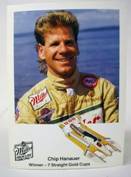 <![endif]>
"Michael, I just wanted to pass along a note to tell you how thrilled I am with the trees. The effect they have brought to our new courtyard in the front of our home here in Seattle has exceeded my expectations!" Chip Hanauer, Hydroplane Driver--Click Here to see his project.
"I work in customer service so I know good service when I experience it and you have my top rating. I would definitely recommend you to anyone who needs new landscaping. Thanks again." Carol, Camano Island
"By the way, the trees were a great privacy feature when we sold the last house! We now have a much larger space . . " Katherine, Fall City
"My compliments to your crew. We've had a lot of contractors working on our house recently and we've seen the entire range; and your guys were excellent. The trees make things look so much better—I started smiling as soon as I saw them going in." Holly, Queen Anne
"You guys are the best nursery I've ever done business with! And I have dealt with a few. You did what you said you would, on time with attention to detail rarely found. From the beginning of the quote process all the way through to the last detail you made it easy. And you work to ensure that the trees will thrive after planting with detailed advice, a complementary irrigation system, and a website filled with useful information. Most nurseries will just dump off the goods and tell you best of luck, put some water on them. You provide a quality product that sets you apart. Your crew was friendly, polite and operated as a well organized team. I would recommend you without hesitation! Thanks for doing a great job!" Ryan, Buckley
"We can not believe how beautiful your trees are. The privacy is unbelievable. If you ever need a testimonial let us know. Our yard is perfect! We sit there and say "my oh my"! Suzanne, Tacoma
"I don't think I've ever been as happy with something I've purchased." Sarah, Sammamish
Many More Testimonials (click here)
For more information see our web pages:

Serving Washington State Since 1995
13510 Old Snohomish-Monroe Road
Snohomish, WA 98290
(425) 343-2650
(425) 953-5780 fax
Sales by "Appointment Only", please
<![if !vml]>

<![endif]>
To "Jumpstart" a project by getting us the information we need, please fill-out our Project Worksheet.
We deliver & plant throughout the State of Washington:
Aberdeen, Addy, Adna, Almira, Amanda Park, Amboy, Anacortes, Anderson Island, Ariel, Arlington, Ashford, Auburn, Bainbridge Island, Battle Ground, Belfair, Bellevue, Bellingham, Benge, Benton City, Bickleton, Black Diamond, Bonney Lake, Bothell, Bow, Bremerton, Brewster, Bridgeport, Brier, Brinnon, Brush Prairie, Buckley, Burbank, Burien, Burley, Burlington, Camano Island, Camas, Carbonado, Carnation, Carrolls, Cashmere, Castle Rock, Cathlamet, Centerville, Centralia, Chattaroy, Chehalis, Chelan, Cheney,Chewelah, Chimacum, Clarkston, Cle Elum, Clearlake, Clinton, Clyde Hill, Colbert, Colfax, College Place, Colton, Colville, Concrete, Connell, Conway, Cosmopolis, Coulee City, Coulee Dam, Coupeville, Covington, Cowiche, Creston, Curlew, Curtis, Cusick, Dallesport, Davenport, Dayton, Deer Park, Deming, Des Moines, Dixie, Dupont, Duvall, East Olympia, East Wenatchee, Easton, Eastsound, Eatonville, Edgewood, Edmonds, Edwall, Ellensburg, Elma, Endicott, Entiat, Enumclaw, Ephrata, Everett, Everson, Fairfield, Fall City, Farmington, Federal Way, Ferndale, Fife, Fircrest, Forks, Fort Lewis, Friday Harbor, Garfield, Gifford, Gig Harbor, Gold Bar, Graham, Grand Coulee, Grandview, Granger, Granite Falls, Grapeview, Harrah, Harrington, Hartline, Hoquiam, Hunters, Ilwaco, Inchelium, Index, Ione, Issaquah, Joyce, Kahlotus, Kalama, Keller, Kelso, Kenmore, Kennewick, Kent, Kettle Falls, Kingston, Kirkland, Kittitas, La Center, La Conner, Lacey, Lacrosse, Lake Forest Park, Lake Stevens, Lakebay, Lakewood, Lamont, Langley, Leavenworth, Liberty Lake, Lind, Long Beach, Longview, Loon Lake, Lopez Island, Lyle, Lyman, Lynden, Lynnwood, Mabton, Manchester, Mansfield, Manson, Maple Falls, Maple Valley, Marlin, Marysville, Mattawa, Mazama, Mccleary, Mead, Medical Lake, Medina, Menlo, Mercer Island, Mesa, Metaline Falls, Mill Creek, Milton, Mineral, Monroe, Montesano, Morton, Moses Lake, Mossyrock, Mountlake Terrace, Moxee, Mt. Vernon, Mukilteo, Naches, Napavine, Naselle, Neah Bay, Nespelem, Newcastle, Newman Lake, Newport, Nine Mile Falls, Nooksack, Nordland, North Bend, North Bonneville, North Lakewood, Northport, Oak Harbor, Oakesdale, Oakville, Ocean City, Ocean Park, Ocean Shores, Odessa, Okanogan, Olalla, Olympia, Omak, Onalaska, Orient, Orondo, Oroville, Orting, Othello, Otis Orchards, Outlook, Pacific, Pacific Beach, Palisades, Palouse, Pasco, Pateros, Paterson, Pe Ell, Peshastin, Point Roberts, Pomeroy, Port Angeles, Port Hadlock, Port Orchard, Port Townsend, Poulsbo, Prescott, Prosser, Pullman, Puyallup, Quilcene, Quincy, Rainier, Randle, Raymond, Reardan, Redmond, Renton, Republic, Richland, Ridgefield, Ritzville, Rochester, Rock Island, Rockford, Rollingbay, Rosalia, Roslyn, Roy, Royal City, Sammamish, Satsop, Seatac, Seattle, Sedro Woolley, Sekiu, Selah, Sequim, Shaw Island, Shelton, Shoreline, Silverdale, Skykomish, Snohomish, Snoqualmie, Snoqualmie Pass, Soap Lake, South Bend, Spanaway, Spangle, Spokane, Spokane Valley, Sprague, Springdale, St John, Stanwood, Starbuck, Steilacoom, Steptoe, Stevenson, Sultan, Sumner, Sunnyside, Suquamish, Tacoma, Taholah, Tekoa, Tenino, Thorp, Tieton, Toledo, Tonasket, Toppenish, Touchet, Toutle, Tukwila, Tulalip, Tumwater, Union Gap, University Place, Vader, Valley, Vancouver, Vashon, Vaughn, Waitsburg, Walla Walla, Wapato, Warden, Washougal, Washtucna, Waterville, Wellpinit, Wenatchee, West Richland, Westport, White Salmon, White Swan, Wilbur, Wilkeson, Wilson Creek, Winlock, Winthrop, Woodinville, Woodland, Yacolt, Yakima, Yelm, Zillah
Home Privacy Trees Ornamental & Landscape Trees Photo Gallery Care of Your Trees
Tree Removal & Transplanting Delivery & Planting Landscape Supplies Resources About Us/Contact Us Directions & Hours
Website User Agreement Site Map
Copyright 2013, NurseryTrees.com, LLC